Black Hawk Art Program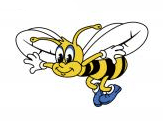 Art inspires creativity in our immediate neighborhood. Supporting the District 186 SCOPE after school program SCCC provides an art program at Black Hawk Elementary School. Members volunteer to teach students grades K-5 arts and crafts during the year.
One class session credit per year is given for every two sessions of volunteering at Black Hawk Elementary School.
Volunteers meet at Black Hawk Elementary School, 2500 S. College St., on the third Tuesday of each month at 3:30 p.m. during the school year.
Black Hawk Winter Clothing Drive
Children's sized outerwear, gloves, mittens, socks, sweatshirts, and underwear are very needed and appreciated to donate to Black Hawk Elementary students. Drop donations off at specially marked collection boxes at SCCC.  SCCC Clothing drive dates will be posted.
For information on Black Hawk School Programs Email:
Harvard Park Annual Rewards Program
Through the SCCC Ceramics Program and with the help of volunteer members, students of Harvard Park School decorate ceramic tiles with acrylic paint as a reward for their good behavior.  Over the past several years 350-400 students have been able to participate in this event at the end of each February.  Students look forward to this treat which not only encourages both good behavior but also allows for a student's creative expression.
For information on Harvard Park School Programs Email:
Holiday Outreach
SCCC designated funds are used to enhance the holidays through purchase of supplies or creation of holiday decorations for a school or other Springfield area social service agency recipient.  For details contact: